Ever since we bought Hendrik one of the most persistent problems has been the water supply. While we've had to replace the pump several times, it was mostly a symptom of the old water tanks. To recap briefly, we had four rectangular tanks made from glassfibre reinforced plastic. These were interconnected to form a claimed 4000L of water tank.
The problems with these tanks were manifold. They were old, and due to their shape their corners became weak. When overfilled they could crack at the corners and need repair. They were easy to overfill because we couldn't see, or tell by any other means, how much water was in them. Our only clue that we were about to run out of water was that the water pump's pressure switch wouldn't trip, so we had to listen like hawks every time the pump went on. We could never even be sure how much water was making it into the tanks when we filled them because the water pressure on the moorings is pretty variable. We couldn't fill them at low tide because the tilt would mean all the water rushing into a single tank, overfilling it and cracking the corners.
Basically in the last five years we've spent a crapload of time pumping water out of the hull, and it was a situation that could not continue. Finally, in December last year we reached an inflexion point. I began to get regularly woken at night by "glub glub glub" noises coming from the tank nearest our bedroom. This, combined with water seeping up through the plywood floor of the galley, was a sign that we had yet another leak, but this time the best I could tell was that it was on the bottom of one of the tanks somewhere.
After a bit of googling I came across a company called Tidel who do fabrication of inflatables. Our requirements were outside their capacity to make, but they put me in turn onto a company called JW Automarine for whom we were on the lower end of the scale (seriously – they do a flexible tank ten times the size we need).
Ladies and gentlemen, I bring you THE FLEXI-TAINER! 2500 litres of glorious, impervious, aqueous storage. Valves so it can be isolated in an emergency. Snap-lock connectors so it can be disconnected and repositioned easily. Loading straps so you can hang it from a goddamn helicopter and fly it into a remote bit of Africa. It can even sit on rough and uneven ground. If you're in the disaster relief business, this is your go-to potable water container. They sounded a bit surprised when I asked if I could buy one even though I wasn't affiliated to any government agency or charity.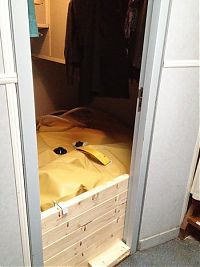 We cleared out one of the remaining non-torn-out cabins, levelled the floor and cut a hole in the wall to fix the outflow valve in position, then cut the supply to and from the old water tanks and connected up the flexi-tainer instead. I had to build a corral across the room's doorframe to stop the tank escaping into the corridor at low tide, but half an hour with (guess what) my kreg jig and a sander had that all sorted. The room is actually a bit smaller than the full dimensions of the tank, so I reckon we're getting about 1500 litres of its full 2500 litre capacity.
But more important, this has been a game changer. Suddenly we can see how much water we have. Suddenly we don't have to panic and run out to turn off the water because if we overfill for more than a second the tanks will crack (all that happens is the deck filler overflows instead). Suddenly we can fill the tank at low tide. We can top up the tank. Every so often we do something on the boat that instantly boosts our quality of life by some huge amount. And this is one of those times. Originally the plan was to use this as a temporary tank until we could get rigid tanks into the hold under the saloon to properly replace the old ones. Now we're seriously considering buying a second flexible tank and just using the two connected together as a permanent replacement.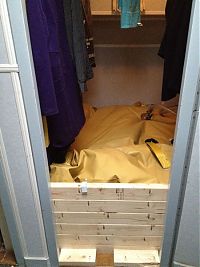 It hasn't been entirely without problems, of course. Early on there was some fiddling with the valve on the top of the tank that's supposed to let trapped air out. At low tide it was much better at letting water out. A dose of expanding foam cured that one. And more recently I've discovered that the weight of water in the tank was actually pushing the bottom of the door frame out into the corridor. I've jacked the frame back into place and fixed down a block of block of wood to hold it. We'll see how that goes.
I drained the old tanks while we were in dry dock (with the boat tipped back at a ten degree angle there was never going to be a better time). They're still lurking down in the hold and need to be chopped up and taken away at some point, but for now I'm just happy they're out of use and out of the way.
Things are still not perfect with the water system, but we have definitely moved on a long way in a short time with this work. And I haven't been woken at night since.
We've got several months of posts to backfill now, so much in the way of ripping off a plaster/band-aid quickly, I'm going to attempt to fill you all in quickly, rather than take the time to write an epic, detailed post and further add to the delays in showing off what we're doing!
But on the plus side, we're only too busy to blog because our spare time is being spent getting on with boat work!
The previous update on the bedroom building was that we'd finished insulation before winter (always a good thing!). Just before Christmas, James and his dad then got to work building in a new subfloor.
If you recall, Hendrik has a sealed, steel cargo floor throughout the hold, and for about 3/4 of the space occupied by the hotel bedrooms, there's a ballast of sand with a 4" thick layer of concrete on top of this cargo floor, for a total height of about 9 inches, I'd guesstimate. The bedroom, wardrobe, and sewing room will occupy this ballast-free space, meaning they will be dropped in relation to the bathroom, guest bedroom, and snug, which will sit on top of the concrete. We get very tall ceilings in there, but it means a floor needs to be built first!
The subfloor (above the cargofloor) needed to provide several things:

An air gap between the steel and the floor, in case of the inevitable damp from breath/condensation


A space for insulation


An anchor for easier wall building


First they laid a framework with the main boards running along the line of the boat, with braces in between…
Then a layer of plywood…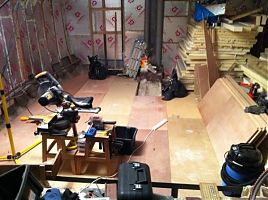 Then another framework with the main boards running across the boat, which were filled in with sheets of thick celotex insulation, and a final layer of plywood on top!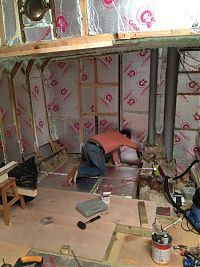 And best of all – there's no bounce when we jump up and down! Nice and sturdy, unlike a lot of the floors we inherited.
With a solid base in place, it was then time to build the first walls. James started with the easiest (and shortest!), the wall between the new sewing room and the wardrobe.
The first step was to build the outer frame: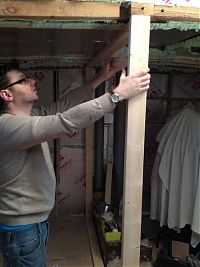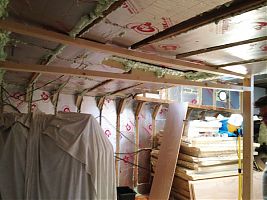 Then fill in the uprights and cross-bars to match the width of the 12mm plywood from Wickes: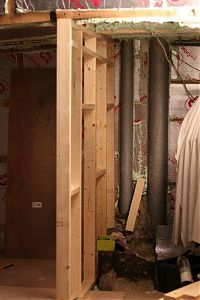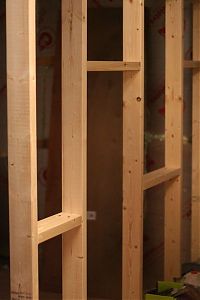 Then clad one side with said plywood, ready for electrical cables to be run: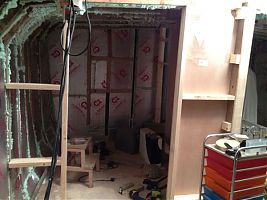 You can see the shape of my sewing room at the end of the corridor right there! Exciting!
James has once again been won over by the Kreg jig and how easy, fast, and strong the frames were to build. It's easily been our best buy, and James's most-used tool! We can climb all over our wall frames like a climbing frame, with no movement or creaking at all.
More walls were built more recently, plus we've got a drydock report for you, coming up soon…
Usually when boat blogs go quiet, it's one of two things: either the owners are too busy getting on with boat work to document things, or things have gone horribly wrong and they're too depressed to say so.
Happily, we're firmly in the former camp! We've got about 6 months of updates we owe you, like progress on the new bedroom, a freshly painted main deck, a bunch of new garden beds, a leaky wheelhouse roof, new batteries, a serviced engine & working generator, and a brand new flexible water tank, but until then, we've got even bigger news to share…
Hendrik sailed yesterday, for the first time in 5 years! Not because she couldn't, but because of cost, logistics, and life reasons. If you own a boat, you'll know that 5 years means one thing – drydock! And so it was time for our big girl to get pulled up a slipway and checked over. We're also taking the opportunity to get a few odd jobs done and paint the sides (something we can't do on our usual berth), but fingers crossed we won't need much overplating done after the survey results are in.
So, the journey yesterday…! We got up at 3am to start the engine, disconnect our power and telephone lines, and get the nav lights in place, ready to leave our berth at 3:45am on the dot. We can only get in and out of our yard's slipway on the spring tides, so we had to hit the outgoing tide that day, then ride the tide back up the Medway as it turns and floods back in.
The journey down the Thames was in darkness until around Tilbury, so I got some fantastic shots of the city lights on the way. Another big highlight for me was going through the Thames Barrier at Greenwich, which I'm very proud to say that James sailed through! In fact, he was behind the wheel for most of the journey, with our skipper Stefan advising where needed (which wasn't much). I was mostly on tea, breakfast, baked goods, and photography duty. We also went right near the wreck of the Montgomery, which I knew nothing about (hooray for mobile 3G signal and wikipedia!), and James's live charts app on his iPad was also a huge help (so much so that Stefan's talking about buying an iPad now!).
In any case, we're still catching up on our sleep (in a very kind neighbour's boat for the duration!), so I'll leave you with a slideshow:
Or if you'd prefer, you can see the Picasaweb gallery here.
This is a very sad and difficult post to write. Yesterday afternoon Bosco went to sleep and never woke up. He had always had a weak heart and it seems like yesterday it gave up on him. I don't think he felt anything.
We will miss him forever but we will also remember that we took a scared, scrawny, half-feral kitten and let him blossom into the happiest, friendliest and most personality-filled cat in the world. And although right now that thought makes us smile and cry, hopefully soon it will only make us smile.

Rest in peace, kittenpuss.
We've been hard at work since we got back from our Hungarian holiday, spending nearly all our weekend time down in the hold trying to get it insulated and sealed as quickly as possible with the encroaching winter.
We chose to go the Celotex route, buying 50mm thick boards for the walls and 75mm thick boards for the floors and ceiling. Unfortunately, the sheets didn't fit through the hatch, despite our measuring, thanks to some welded tabs to hold the metal stairs in place making the diagonal measurement smaller than expected. Plus the, err, crazy thickness of the boards. So all the sheets had to be sawed in half (with kitchen knives) in order to get them safely inside.
To get them up and in place, each span between the ribs is measured and a corresponding width of insulation is cut with a kitchen knife, then jammed into place, with any errant bits shaved off with the knife in situ. I've been finding my L-ruler (A "Sew Easy Dressmaker's Square", bought for patternmaking) to be beyond dispensable in making nice, even rectangles! to answer a commonly asked question – no, there's nothing holding the insulation to the walls, other than the tight fit against the ribs and battens. To answer another frequently asked question, no, we didn't want to go the total sprayfoam route because it'd mean hiring the pros and having the mess three or four separate times since we're not renovating the hold all in one go (we do have to live here while we're doing this, remember!)
Then one of us comes along with the spray foam gun to seal up any cracks and irregularities (like the odd spaces around the portholes). You can see James on sprayfoam detail here: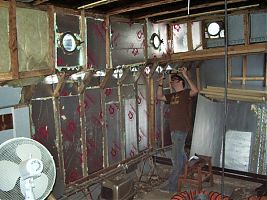 Music makes the job a bit easier, as we found with the wirebrushing and painting!
So far we've managed to insulate both the port and starboard sides, and part of the wall with the focastle:
The ceiling requires two people to get the boards up and into place, and it's a bit tricky considering they're a good 7 feet up and we've only got one stepstool! Our neighbour Lumni has been busy helping us out, too, making quick work grinding off the earlier floor supports (the hotel floor was raised ~18 inches in order to fit the ballast water tanks underneath) so it's easier to walk around down there now.
He's also been busy helping us with our main deck. I'm ashamed to say that he accomplished in one (long) day what we couldn't in 4 years, and gave us a nice, clean surface back. He also rollered on the first two coats of Jotun Vinyguard primer, and then James has put the first green topcoat on over the weekend!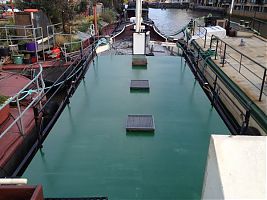 We've still got another layer of topcoat to go, but it's the first time in YEARS we've had a beautiful green deck! Like Serenity, we are definitely members of the Jotun fanclub!
While I was cutting insulation, James has also been working on building the first replacement skylight cover, too, so our new bedroom doesn't get dripped on. He's used sapele wood for the frame and plexiglass surface before reusing the metal grates on top, but we'll have photos of that once it's complete.
About two weeks ago, we were very happy to trade in our wirebrushing tools…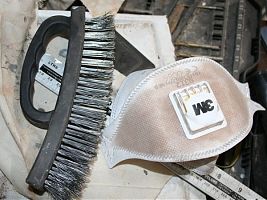 …for a bit tin of Jotun Vinyguard primer, rollers, a touch-up brush, and face masks!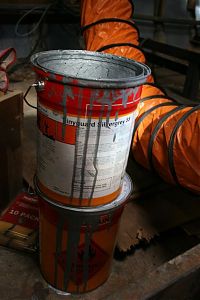 The wirebrushing was a physically tough, dirty job so we were glad to see the back of it, but painting comes with its own challenges – namely the unholy fumes! I swear, after a while I started to taste wintergreen in my mouth from the fumes, even through our filter masks.
Luckily, we borrowed an industrial exhaust fan from our awesome welder neighbour Charles, and because it has a concertina which is the perfect size for a porthole, it meant we could leave it on overnight without fear of a certain cat climbing out the hatch. With that running overnight, we could really clear the smell from the boat in a day or two.
The nice thing about painting, though, is that it's satisfying work! We got to watch the hull go from a speckled-rust colour to a stately silver-grey, and the rivets really popped once painted, too!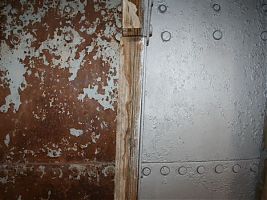 We used mini rollers for the bulk of the painting, plus one small paint brush between us to get the tricky corners and particularly long rivets and bolts. And believe me – there were a lot of rivets to paint around, not to mention the ribs every 14 inches or so…
The thing is, had we been painting a similarly-sized box room, we could have had it finished in a day, but going around all the strange corners, rivets, overhangs, and portals really made it take significantly longer! We reckon it took us four sessions of about 2 hours each with both of us painting to complete it. We stopped for fresh air breaks every paint tray, too…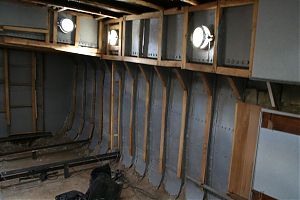 But of course, as soon as you finish one milestone, another portion of the project jumps forward to take its place, and the insulation is something we need to get in place fast before the weather turns much colder…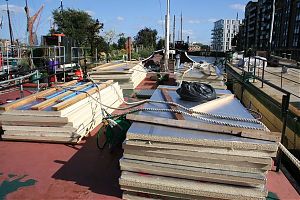 Yes, that's our next project, after a well-deserved week's rest in the thermal spas of Hungary, celebrating our first anniversary!
The problem with destruction is that eventually you need to get rid of all that stuff, and the downside to clearing such a large space is that you also end up with a large amount of rubble.
So last Saturday we booked a truck from Any Junk for the afternoon, meaning we had to get the entire pile from inside Hendrik up to the road in a matter of hours so as to not uglify the moorings. We did what anyone would, faced with such a task – we begged, pleaded, tricked, and bribed our friends into helping.
We started at 10am with just our neighbours Alan and Liz plus James and I. The four of us moved the pile from inside Hendrik, up through the hatch, and up on deck. We had two of us below deck passing pieces up to the two above deck, and we moved the whole pile pretty quickly.
This also meant we needed a cuppa while we awaited more troops!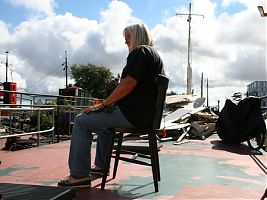 And more troops did arrive, and about ten of us formed a "bucket brigade" of handing off pieces to the next person in the line, until we'd moved the whole pile the several hundred metres up to the road.
Astonishingly, we'd moved the entire pile up to the road by 1pm, and Any Junk came and cleared it all away by 2pm!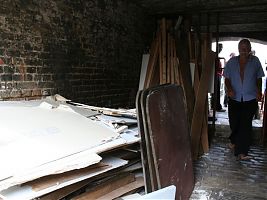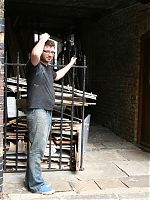 This was our first time using Any Junk, and we will definitely use them again. Our other two choices were to a) use Tidy Thames to lower a skip onto our deck again (putting it mildly, I'd rather get a full body root canal than ever deal with Tidy Thames again. Awful, awful, horrific company!! And that's the nicest way I could possibly put it.) or b) Hire a skip up by the road (but we're on a double-yellow so need special permission, and of course, this means getting everyone's rubbish added to it when your back is turned!).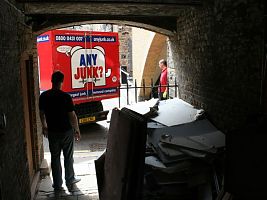 Any Junk worked out rather cheaper than a traditional skip hire, and a fraction of what Tidy Thames surprised us with last time. Plus, the Any Junk guys were super friendly and were happy to load our pile into the truck themselves, and even came around to see the boat afterwards!
Since their entire truck is a giant scale (so they know how much to charge you), we were able to get an accurate reading on exactly how much we'd moved that day – 1.2 tons! OMG! And this was the third time I'd moved it!
One the pile was gone, we rewarded the troops with pizza, beer, and pulled pork to say thank you to our friends and neighbours. We're rewarded by an empty hull, ready to complete wirebrushing then priming…
And a rainbow to remind us to stop and look up every now and then: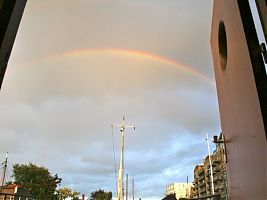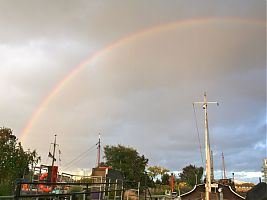 The roof, the roof, the roof is on fire not made of asbestos.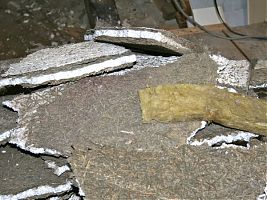 We know this for certain because we've got a certificate with the English language's most wonderful acronym on it: NADIS, for No Asbestos Detected In Sample. But how exactly did we get here?
Once the walls had come down, the next step was to pull the old ceiling panels down. These were compressed wood fibre tongue and groove panels which were just clipped to the battens so they came down easily, revealing a layer of rockwool and above that the curious shredded fibre insulation boards you see in the pictures. Any attempt to move these boards rained dust down into the boat, and given the age, budget and fireproofing requirements of the original conversion I thought it prudent to call a halt until we could confirm we weren't working with asbestos.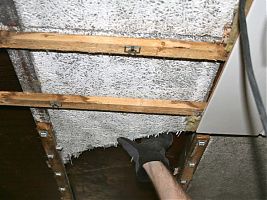 Google turned up a company called All About Asbestos who were fabulous. I sent a query through their website on Sunday, and on Monday a very reassuring chap called me to talk through the options. He took great care to inform me that there's "good" asbestos which is cheap to remove and "bad" asbestos which requires the whole ET-house plastic wrap deal. And of course, it was possible we had the "not" asbestos kind.
Their labs turned our sample round in 24 hours for a cost of £50 plus VAT and I have to say that's some of the cheapest peace of mind I've ever had. By the next weekend we were ready for me to pull the boards out, which took about 90 minutes with the help of a crowbar and some sturdy gloves. Above the boards the back side of the deck looks pristine which means we can go straight to celotex there. And we will need to soon, because without the insulation in place the sun turns the hold into a sauna very quickly.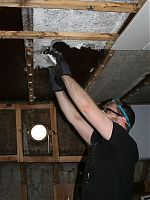 By coincidence skipper Stefan was around the moorings during the week and we took the opportunity to show off our progress (happily Stefan now talks to us like proper boat owners!). Of course when we showed off our NADIS certificate he looked at the sample and told us… "Oh yeah, the Dutch use that shredded stuff all the time. I could've told you it's not asbestos."
Oh well.
I'm not sure how this happened, but we're over a month behind reality on the blog again, but that's mostly because we've been working on the hull every single weekend so there's been lots of progress made.
Here you can see some fetching photos of me wirebrushing the hull by hand, with gloves and filter mask: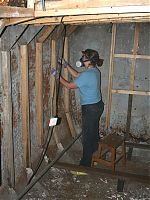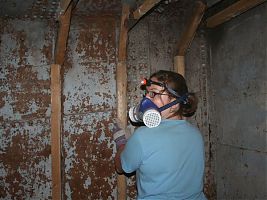 We're doing this by hand because, even though it's messy and exhausting work, it creates a LOT less mess than wirebrushing by powered drill, and since we only need to remove the loose old paint (not get it down to a clean and virginal state), hand brushing is fine for our needs. But you get so sweaty and covered in rust that a shower is 100% necessary immediately afterwards!
It's nice to see progress being made, though – you can definitely see the before and after!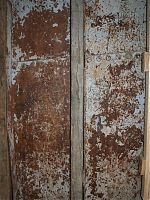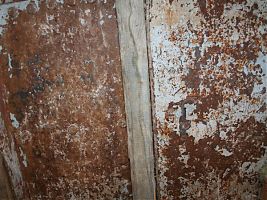 (Hint: The finished panel is on the left, "before" is on the right)
So far we've finished the entire port side, half of the starboard side, and so we've only got the lower ceiling yet to go. The taller ceiling is in "like new" condition, happily, but more on that coming up…
With all the hard work we've been doing over the past four years, the vast majority of it has been of the vital and urgent sort, so to be able to do some purely aesthetic work on the boat felt pretty nice.
We're planning on doing a full topside paint when we go into drydock next year, but the anchor winch area has been bugging me recently with its rust, and I could no longer ignore it.
So last weekend I went at it with a wirebrush and a screwdriver (the latter to get the big bubbles of paint off when the wirebrush couldn't cut it), and at first it looked worse, not better:
Then I got out the white paint and gave everything a good coat, including the two turning wheels next to it, the spiral winch itself, and even as far up the pile as I could reach (though somehow my pile photo has gone missing).
As luck would have it, I did the white paint on one of the hottest days of the year, so the paint dried almost as soon as it touched the hot metal, meaning I could do two coats in about 45 minutes.
Then I managed to borrow a tin of "Post box red" paint from the neighbours, and I touched up the winch spiral and the ends on the port side:
This stuff was great – it looked fantastic after only one coat, and gave a really satisfying, glossy, deep red finish. I must get a photo of the label before the neighbours are off, as I'd buy this over Hammerite any day.
I still want to finish the job with a similar touch-up session of black paint, but I'll need to wait for another sunny weekend for that (so, ooh 2013?).